Chocolove delivers the best flavor and value as well as the most transparent social position and sustainability practices as part of our overall commitment to customer satisfaction. We take a variety of approaches towards ethics, social issues, and sustainability, because each program answers a certain need for both the customer and the farmer. The subjects of corporate ethics and morality, social responsibility, and cocoa supply chain sustainability are all interrelated, but cannot be answered by one logo or name.
We are one party in a supply chain of eight, beginning with the farmer and ending at the consumer: (1) farmer, (2) coop, (3) exporter, (4) roaster grinder (chocolate maker), (5) Chocolove, (6) distributor, (7) store, and (8) consumer. Knowing all the links in the supply chain gives us safer ingredients and safer foods, and even though Chocolove is in the middle, we look out for everyone in the supply chain.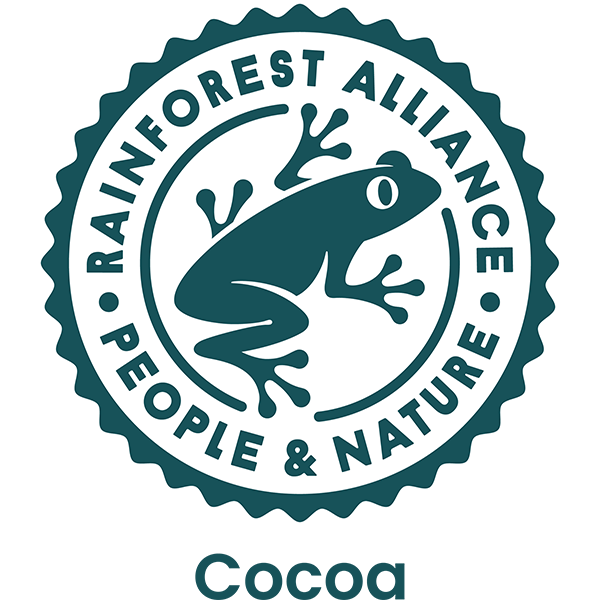 Rainforest Alliance – Our products carry the Rainforest Alliance Certified™ seal—the iconic "green frog"—to demonstrate we are sourcing from farms that produce cocoa "grown in ways that benefit farm families, wildlife and the environment." It may be news to some, but Chocolove has for many years sourced the cocoa beans that go into our chocolate from Rainforest Alliance Certified farms. The Rainforest Alliance protects forests, improves the livelihoods of farmers and forest communities, promotes their human rights, and helps them mitigate and adapt to the climate crisis in bold and effective ways. When you buy Chocolove products made with Rainforest Alliance Certified cocoa, you can be sure that your purchase supports a better future for cocoa farmers and their families. Find out more at ra.org
Fair Trade – Producers and businesses under the Fair Trade Certified™ seal work to adhere to strict labor, environmental, and ethics standards that prohibit slavery and child labor and ensure cocoa growers receive a steady income, regardless of volatile market prices. Chocolove produces two bars that are Fair Trade certified.
Organic – Chocolove's two Fair Trade certified bars are also organic certified by the Colorado Department of Agriculture, which is a USDA-accredited certification agency. USDA certified organic foods are grown and processed with a focus on soil quality, animal raising practices, pest and weed control, and the use of additives. Organically processed foods do not contain any artificial preservatives, colors, or flavors, and as with all organic foods, none of it is grown using genetically modified organisms.
Non-GMO Project – Most of Chocolove products bear the non-GMO logo. The work to get the seal is a very long and detailed process. This process in addition to verifying that the products are free of GMOs (genetically modified organisms), also provide a fully traceable supply chain. The Non-GMO Project provides a high level of traceability. To us, this is a significant food safety feature.
Kosher Dairy – Chocolove products carry the Scroll-K Vaad HaKashrus of Denver (Colorado) seal for Kosher Dairy. The choice for a Denver-based supervision means we welcome the Rabbi to our facility monthly. Having the Kosher Dairy certification is a further layer of oversight on our ingredients and processes.
Roundtable on Sustainable Palm Oil (RSPO) – Chocolove is a member of the RSPO, the Roundtable on Sustainable Palm Oil, an organization devoted to ensuring the minimization of the negative impact of palm oil cultivation. The demand for more sustainable sources of palm oil continues to grow and the RSPO is an internationally recognized standard for assuring sustainable production of palm oil across the supply chain. RSPO certification ensures that palm oil production is not associated with deforestation and loss of critical habitat. Chocolove has been a Supply Chain Associate member of RSPO since June 2016.
Check out our progress at www.rspo.org
Safe Quality Food (SQF) – SQF is a globally recognized food safety certification program that is based on government and industry requirements. Chocolove is SQF certified and committed to the safety of the products we make and the consumers who eat them. Being SQF certified assures that all Chocolove products are produced to the highest possible standards. These standards focus on supply chain traceability, cleanliness of the facility, and proactive prevention strategies.
World Cocoa Foundation (WCF) – Chocolove is a contributor to the WCF and have been members since 2004. The WCF is farmer-focused and helps all farmers, irrespective of whether they sign up for a program. The WCF approach strives to organize and educate farmers on issues of labor, proper use of soil amendments and plant treatments, crop management and post-harvest handling. They do all this with a view to increase farmer knowledge and then productivity, which raises farmer income in a self-sustainable way. WCF is not a certification group, so we do not add a logo to our packaging.
Growing Great Chocolate (GGC) – The GGC program was set up and is run by Barry Callebaut, a vendor of chocolate to Chocolove. Chocolove believes that cocoa bean roasters and grinders, such as Barry Callebaut, have the responsibility to improve the farmer's cultivation and post-harvest practices as a way to increase farmer standard of living. Also doing this ensures the future supply of quality chocolate. The role of sustainable cocoa farming truly belongs to the farmer, and not a third party. Farmers in the GGC program must sign an affidavit to the effect that they abide by International Labor Organization (ILO) standards for child labor.
Social and Ethical Commitment
We accept responsibility to assure that all ingredients in our products have been sourced through ethical and socially responsible means.
We work to uphold UN Guiding Principles for Business and Human Rights, International Labor Organization (ILO) standards, and other international human rights, labor norms, and national labor laws, all with respect to human rights and child labor in cocoa bean harvesting.
We will actively communicate our social responsibility philosophy.
We are committed to a social solution that works for the farmer, the interim handlers, our chocolate supplier, and our customers and consumers.
We believe true long-term sustainability is the role of the farmer and business and is not the same as certification.
We will retain the same great flavor and trust of our consumers.
Good flavor at a reasonable price also results in good income for cocoa farmers.